Wrestling Wins Division Tournament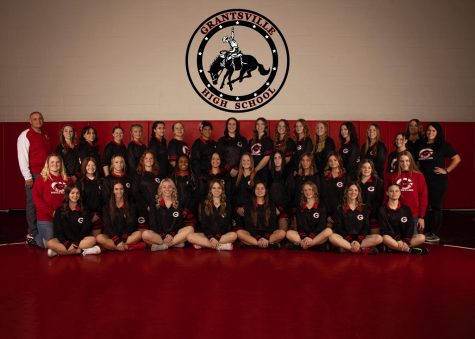 Division Champions, with four wrestlers placing 1st, and 22 of the 26 member team placing in the top six in their event, the team advances to state with 301 team points, the next team coming in almost 100 points lower at 205 in yesterday's meet.
Matthew Mecham, Head Girls Wrestling Coach, said, "These young ladies are building a sport. Girls wrestling is relatively young as a sport. The girls on our wrestling team have become ambassadors for the school and community of Grantsville and ambassadors for the sport of girls wrestling."
Placing 1st, as division champions in their events were Sophia Camargo, Courtney Mecham, Hailey Broderick and Nikki Dong.
"When I started wrestling this year, I didn't have any expectations, but the more I wrestled, as the season went on, as I worked harder, ang got stronger, I relized how rewarding it is, said Camargo. "Wrestling has brought out a strength in me that I didn't know I had, mentally and physically. I'm honored to get to wrestle for GHS and I hope I can continue to represent our school and community and make them proud."
Placing 2nd, as divisional finalists are Rhylee Clark, Arlie Jensen, Bailey Rainer, Brielle Fawson, Vanessa Elexpuru, Kailzley Clark, Addison Butler and Zoey Cloward.
Hailey Broderick, who took first in her division said, "It feels amazing to be division champion! I'm so grateful that I've done so well this season and I couldn't do that without my team and my coaches. It's surreal that we are already at the end of the season again. I've worked so hard, and I want it so bad, and I am so extremely happy that it is going to plan. All the long hours we've put in are finally paying off. I am so excited for state and what is to come."
Placing 3rd are Caelia Moyer, Taylor Rackley, Lindee Ussing.
Nikki Dong, who also took first in her division said, "Being a Division Champion for the second time in a row feels so good! Last year was nothing compared to this year. The competition this year was extremely tough, but all the practices and amazing coaches made it all happen. I couldn't have done it without them in my corner and my teammates by my side. This year has been so fun. and our team as a whole has been so good. We all worked so hard to gain the division title as a team, and I am so lucky to have sisters like these."
The team advances to state competition on February 14-16th in Richfield.
Asst. Boys Coach, Nathan Gardner said, "The girls have performed tremendously. The experienced girls continue to impress and improve, while the new batch of freshman have stepped up and battled. The girls have focused on improving daily and worked their tails off. There is no magic preparation for state, just doing the same things we have been doing all year, just a little harder, more focused and with more intensity. The girls inspire each other and that momentum keeps compounding, bringing in new girls to the team. We hope to continue this for years to come.
Team mates from the boys wrestling team cheered on the girls team. "They [girls' wrestling team] did really well, they stuck to the script, and went out with tenacity," said Payton Yates, junior.
Asst. Girls Coach Larry Clark said, "This year has been better that any of us coaches could have asked for. For state, we just focus on hard work and determination."
The team practices Monday – Friday on and non-duel days from 3:30-5:30. The team has competed in 11 duels as well as several tournaments throughout the year.
Boys' Head Coach Jake Phillips said, "The girls have performed well. The one thing that stands out is not just one girl. It is a complete team that is driving the results. To get ready for state we are going to do more mental training. The girls have the skills to win back to back state titles. The goal is to keep it loose and not put additional pressure on the team. The season goal was to peak at the right time and we are right at the crest of the peak."
The wrestlers walk the halls with wrapped knees, mat burns, and sometimes may feel that the commitment they make to this sport may be underestimated. "It's a brutal sport and people don't see how tough it can really be," said Ron Miller, junior.
Friday and Saturday the boys' team will compete for division at Morgan High School. There are 26 boys competing.
Yates said of the upcoming meet, "I hope we go compete with goals, and I hope we bring the same tenacity [as the girls' team]."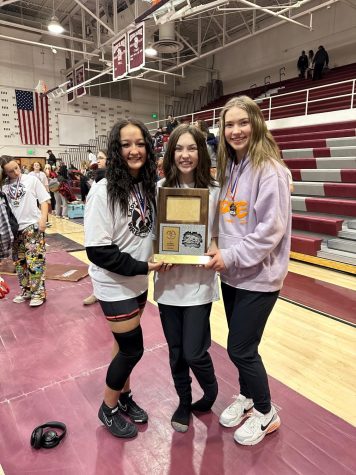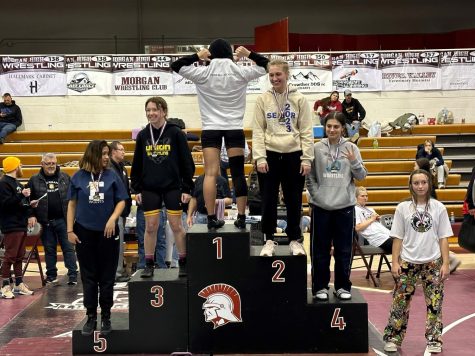 Leave a Comment
Your donation will support the student journalists of Grantsville High School. Your contribution will allow us to purchase equipment and cover our annual website hosting costs.