Band Rolls Out the Red Carpet
The band had a red carpet night on November 4th to celebrate their achievements throughout the season. 
The red carpet night serves as a final bow to celebrate the achievements of the band members as they progress with a night full of excitement.
"Overall it's a fun night and we get pictures and awards and then I enjoy going out with my closest band friends and vibing afterwards," said Ruthann Westover, senior.
Band members will be dressing in formal styles as they go to get their pictures taken and celebrate each other's achievements while also continuing the night with euphoric traditions.
"I, Ruthann, John, Daniel, and some other of our friends will go get ice cream and hang out afterwards. It's always a blast," said Kathryn Dunn, senior. "I like seeing the younger classmates get awards because they have worked so hard and I love seeing them get so happy and proud of themselves." 
Some of the awards given out were: Most Improved: Hunter Haymore, Most Confused Section: Percussion, Best Leadership: Dunn and Daniel Weis, Best Section: Bass Bros, Best dancer Adam Westover, Best Guard: Marisela, and Best Dressed: John Ussing and Ruthann Westover.
As the night progresses band members will be reminded of past performances and events that have helped to shape their experience in the group.
"There's something about band that is very special to us as a group. I remember one cold rainy morning at Utah state everyone was cold and wet. Pretty miserable conditions for marching. Not too long before we performed I remember us all huddling together and start chanting "I believe that we'll have fun" until we got so loud that it drowned out the other bands practicing. The rest of that day we had a blast. We had forgotten about the weather and just did what we do best," said McKay Anderson, senior.
The red carpet night wasn't always the monumental event that the band constructed, it serves as a newer tradition. The awards ceremony used to be accompanied by a spaghetti dinner instead of a red carpet. Due to covid, spaghetti night was no longer feasible, and thus the new ceremony of the red carpet night was created in its place and continues to this day.
"Since I'm a senior this year, I am very glad that it has come to an end. I have enjoyed my last four years, but I'm ready to be moving on. It's just a good way to end this adventure," said Dunn.
Leave a Comment
Your donation will support the student journalists of Grantsville High School. Your contribution will allow us to purchase equipment and cover our annual website hosting costs.
About the Contributor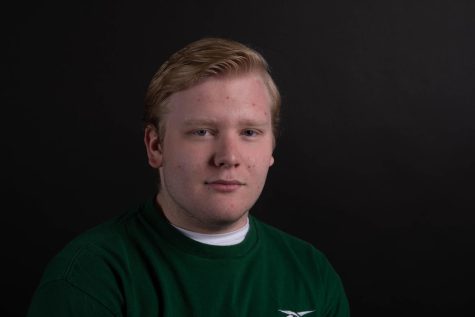 Lance Leonelli, Assistant Editor In Chief
"I love writing, coming up with a unique story, and collecting information, is something I've always enjoyed, nothing beats putting all the elements...