Larietts Forward Stepping Into Competition Season
Standing midfield at halftime of the senior night football game, the stadium lights shimmered like diamonds from the black and silver sequin costumes of the Lariett drill team. The music rang from the Cowboy stadium speakers as 20 Larrietts performed with precision their Pom routine. This was one of many performances on the road to region and state competition.
"My personal favorite routine is probably our hip-hop routine or Fabulous," said Saige Neilson, senior. "Our hip-hop routine is called Elevate and Fabulous is like a kind of jazzy routine. Competition wise, I really like dance this year."
Being a member of the drill team requires both artistic ability and athleticism. The dancers must execute advanced technique and performance skills consistently while moving through formations in a synchronized manner. Performing in this way requires great skill as each dancer is responsible for their individual effort and their combined team unity.
"All the girls are very nice and sweet, they're all great, if you're feeling down they will encourage you, they're just like sisters to me," said Samantha Garcia, junior.
After attending EPIC drill and dance camp in June and then training all summer with 20 hours a week, the Larietts began the season by performing their camp hip hop routine at the first football game. Shortly after that they were invited to perform with 20+ other drill teams at a REAL Salt Lake soccer game during its halftime show. Since then the Larietts have performed at three more football games with their camp dance, Homecoming, and Pom routines while also being in the Homecoming Parade and three volleyball matches performing their camp jazz, camp jazz funk, and Pom routine. They have also performed at two school assemblies doing their camp jazz routine and Homecoming routine.
These game experiences and competitions are opportunities for the team to refine their routines with the goal of region and state which culminates the drill team season.
The Larietts are currently preparing for their first competition at Utah Valley University on December 2nd where they will compete four different routines: military, dance, showcase, and hip hop. They will compete in an additional two invitationals as well as region and state. The Larietts received many first and second place trophies last year and hope to place better this year.
"My favorite competition routine is probably our military routine. We just barely finished cleaning that and it's super fun," said Adela Mulford, junior. "Our goal for this year is to move on from semi-finals to finals, it's been years since the Larietts have made it and I have so much confidence in this team."
The Larietts will also host drill team region 13 and 15 on January 18th where they will welcome drill teams of those respective regions to Grantsville High School so they can compete for the region titles.
"I think our goal this year is to push ourselves a little harder than we did last year, to keep the energy on the floor," said Neilson. "Not necessarily to place a specific way, but to feel like we did our best and that we did our best on the floor even if we didn't do good."
The drill team has a total of seven officers, those being; Neilson: Captain, Mulford: Co-Captain, Jennifer Pittman: Co-Captain, Garcia: Drill Lieutenant, Holly Scott: Secretary, Ali Betts: Historian, and Maggie Sadler: Underclassmen representative.
"As the coach of the Larietts I have to say I'm extremely proud of the young ladies they are and how hard they push themselves to become better dancers, students, and humans," said Courtney Worthington, drill coach. "The 21 girls on the team are one of a kind. Being a Lariett is not for the faint of heart. It's 20 hours a week of hard practices and performances. We condition,  train, and do technique along with perfecting 11 routines for the crowd to love. You have to love it and have a huge level of commitment to be a Lariett and each one of those girls have that heart. I'm so proud of them."
Leave a Comment
Your donation will support the student journalists of Grantsville High School. Your contribution will allow us to purchase equipment and cover our annual website hosting costs.
About the Writer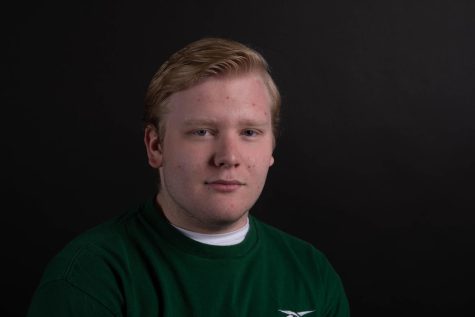 Lance Leonelli, Assistant Editor In Chief
"I love writing, coming up with a unique story, and collecting information, is something I've always enjoyed, nothing beats putting all the elements...