How To Give Her A Hallmark Christmas Movie Date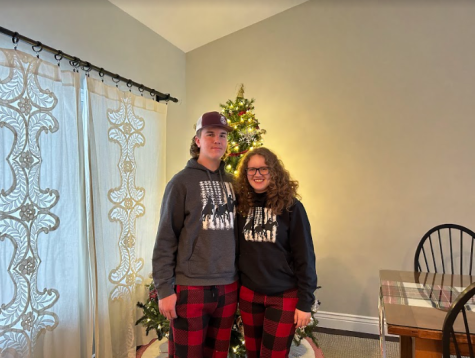 It's that time of year again, Hallmark Movies are raising girls' expectations for the romantic holiday season through the roof. Boys, are you finding yourselves struggling to keep up to woo your boo or crush? Here are some date ideas that will make her want you for Christmas. 
First things first, Hallmark Movies. Watching a Hallmark movie marathon while cuddled up with blankets, drinking hot chocolate, and eating your favorite snacks is a great start. Gentlemen, this is a great way to get more ideas for dates while already on a date. Throughout the movies, keep your ears tuned for her reaction to the movie. If she says, "Aww that's so romantic." or "that is so sweet and thoughtful." throughout the movie, that is code for, "I would immediately fall in love if someone did that for me.". So don't forget to take notes. 
Ice skating is a fun and goofy winter activity for group dates, which really is not that hard. After a lap or two around the rink, you get better and more confident. Wobbling on the ice gives her an excuse to grab onto your arm for balance, along with holding hands so you two don't slide away from each other or your group date. If you're aiming for a romantic setting, the Gallivan Center in Salt Lake City is a fun outdoor rink with festive lights and great photo props to remember the fun date. City Creek Mall is right across the road with Chick-fil-a and other food court options if you two get hungry, which you most likely will be after skating.
Perhaps with gas prices, staying in town is ideal. A handful of houses always go all out for Christmas decorations and lights. Taking a drive looking at Christmas lights in Grantsville and Tooele is a fun way of spending quality time together. You can make it a double date and afterward have a bonfire with smores or hot chocolate. 
Maybe as a guy, you don't know how to sweep a girl off her feet with romantic gestures, but you sure know how to have fun in the snow. You could go sledding or (if your parents will let you) get a tube and rope attached to a 4-wheeler with some friends if there's a snow day. This might be more of an activity to do with the boys but still invite her. You never know, maybe she would be down. If not, you can't ever go wrong with building a snowman, or igloo, having a snowball fight, and more. 
You can't have Christmas without baking. Cookies, gingerbread men, building a gingerbread house, or whipping out the family recipe book would be a great bonding experience while getting to eat baked goods. This activity can be just the two of you or with other couples competing for the best gingerbread house. Then you can watch more Hallmark movies or switch it up to classic Christmas movies with a treat.  
If she likes arts and crafts, the two of you can make Christmas ornaments for one another. A new fun creative tradition for you and your sweetheart or crush would be sure to warm her heart. Need ornament inspiration? The school newspaper's blog section has fun Christmas DIYs. Of course, you can always make snowflakes or paper chains. An idea to make paper chains more romantic is writing cute messages for each other on each chain at the beginning of the month, then unraveling one each day for the countdown to Christmas. For the boys who like Legos, you could make the roses set together or a standard Lego set. 
At the end of the day, it doesn't matter how extravagant, creative, or how much money you spend on her, it's all about effort and thoughtfulness. Ladies love it when you show effort and that you care about them by doing random acts of kindness, wanting to make memories, respecting them, having quality time, asking to hang out, having fun, and eating food.
Leave a Comment
Your donation will support the student journalists of Grantsville High School. Your contribution will allow us to purchase equipment and cover our annual website hosting costs.